Well-being & Pastoral Care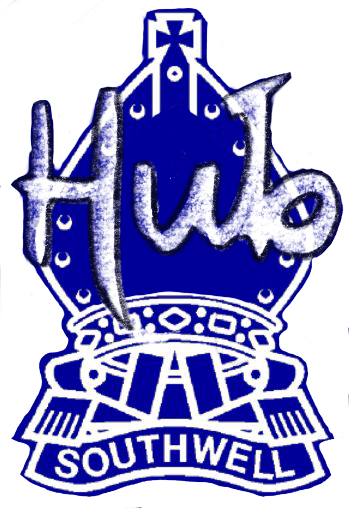 The Minster Hub acts as a first port of call if you are worried about the well-being of a young person or you need help and support. Our phone line open on weekdays from 8.00am to 5pm and you can email our dedicated safeguarding address at any time.
During opening hours there is a trained pastoral specialist available.
Hub reception 01636 814000
Dedicated email safeguarding@minster.notts.sch.uk
Free School Meals freeschoolmeals@minster.notts.sch.uk
Online safety
Significant amounts of time are being spent by children online during the school closures and while this brings benefits, there are also risks. We want to make sure children stay safe online and parents/carers have a significant role in helping us. Please find below some sources of guidance to help you look after your children.
| Source of advice | Link |
| --- | --- |
| The NSPCC has wide-ranging advice and guidance including about how to a conversation with your child regarding online safety | |
| Internet matters includes age-specific advice for parents and families | |
| The portal from Think You Know is great for children to visit - sections are directly aimed at them. It also links straight to the national system for reporting online concerns and abuse. | |
| Childnet has a useful downloadable parent guide along with other wide-ranging advice. | |
| The UK Government also has a guide for parents about safety online for children. | |
You can also download our Hub Guide to online safety which summarises some key messages and includes a range of links to useful further information.
Minster School
The school is closed to the majority of students at this time, although learning continues remotely supported by teachers. There is currently no indication when the closure will end but it appears this could be some way into the future.
At such turbulent times there is the need for our students and indeed families to be supported and please be assured, regardless of any closures our pastoral services from school will continue. Attached below is a document we have also shared with students to remind all about what they can do to find help and how to make contact with the right people. This may also be helpful for families.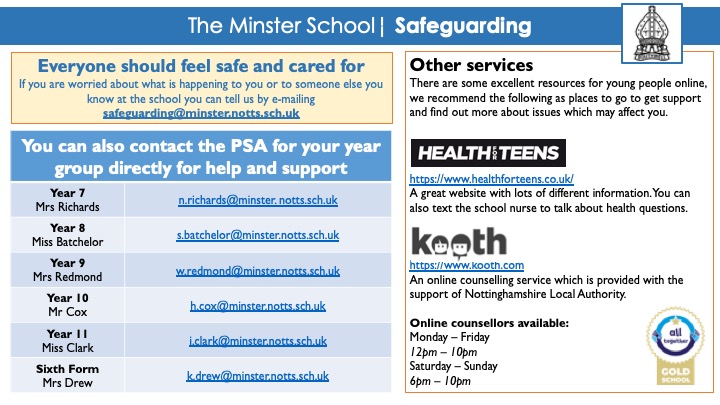 Chaplain Information
Our Chaplain Revd Cathy Porter is available for pastoral and spiritual support regardless of the home school of any pupil or family. She can be contacted at chaplain@minster.notts.sch.uk
Further help for children and families

The following groups all work within the NHS Trust in Nottinghamshire:
| Group | Contact | Details |
| --- | --- | --- |
| Parentline | 07520 619919 (text only) | Confidential texting service to provide parents and carers advice on a range of issues. |
| Health For Teens | www.healthforteens.co.uk | Supporting young people with their emotional wellbeing |
| Chat Health | 07507 329952 (text only) | Confidential texting service for 11 to 19 year olds |
| CAMHS crisis team | Tel 01158542299 or 01158440560 | For those experiencing a mental health crisis meaning they are at significant risk of self-harm or of harming others |
Local and national organisations offering support to young people and families:
| Group | Contact | |
| --- | --- | --- |
| | Tel 0800 1111 | Anonymous telephone chat and online support for children with worries or concerns |
| | www.kooth.com | Online counselling services available to young people in Nottinghamshire. |
| | www.youngminds.org.uk | Mental health and wellbeing support for young people |
| | www.thinkuknow.co.uk | Education and advice which protects children and gives advice to parents/carers on issues around technology including the internet. |
| | www.ceop.police.uk/safety-centre | Report abuse, exploitation or criminal activity taking place online. |

Contacting social care
If you have urgent concerns for a child or suspect that a child has been abused in any way, please call us immediately on 0300 500 80 80 (if you are a member of the public).
If you require an urgent response outside of working hours (08:30-17:00), contact the Emergency Duty Team (EDT) on 0300 456 4546. In an emergency call 999. To report a crime call 101.
Hub Safeguarding Policy