Advent and Hope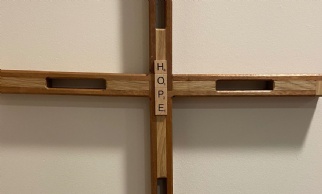 Weekly update reflecting upon Advent and Hope
Dear Parents and Carers,
It is the end November, and the season of Advent is upon us. For Christians, yesterday was the first Sunday of Advent, the first of the four Sundays before Christmas Day. Today I watched Revd Dr Richard Frith's virtual Act of Worship, an Act of Worship that focused upon the season of Advent and the theme of Hope. He explained how in the season of Advent many Christians think particularly of Hope and what it means. For some, when we think of Hope, we think of optimism – hoping for the best – but in the Letter to the Hebrews, Hope is described as confidently expecting something that we do not see or that we do not have. As some of you may know, my son was seriously ill earlier this year. Hope was important to my family and during his illness our hope changed from hope – as in optimism – to hope that we confidently expected him to be better. On my office wall I have a cross with the word hope and my new-born daughter's middle name is Hope. With the news that a Covid-19 vaccine is imminent we can rightly hope that 2021 will bring good news and better times.
In terms of Covid-19 I am pleased to say that we have had no further confirmed cases within our school community since my last communication with you. Since the October half term, we have seen a much-reduced number of cases from earlier this autumn. I thank you, as families, for following the national lockdown guidance and doing your best to control the disease. Later this week we move to tier 3 and I would again urge you to follow the national guidelines as they do seem to reduce the risk of Covid-19 being brought into our school.
In line with our Covid-19 systems we have been keeping the fields open for breaks and lunchtimes. This allows for the students to spread out more and keep their distance from one another. The drawback is that some children are becoming muddy. At this stage we will keep the fields open to maintain distancing but will continue to monitor the situation. I appreciate that this must be frustrating at home if your child returns muddy, but this should be limited to their footwear.
Tomorrow sees the start of the Year 11 mock exams. I know that students have been working hard to prepare themselves for their exams and to do their best. I know that students feel the impact of the time that they were out of school due to the lockdown but as I said last week these are an important staging post on the journey to next summer's exams. I wish them all well over the coming weeks.
With best wishes,
Mr Chaloner – Head Teacher