How we group students into classes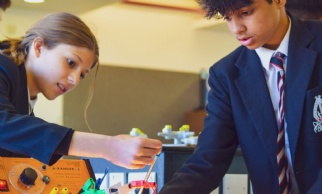 Some information about how we do our best to create the most effective teaching groups for students.
Often children and their parents ask the question "Which group will I be in?" and "What happens if I don't know anybody?". When we put our groups together we take into account a range of factors to help us get things right:
Gender
Ability
Any specific needs
Relationships and behaviour
We work very closely with our primary colleagues to find out as much as we can about the children joining us and aim to create balanced classes and an effective climate for learning. There is no setting of children when we create the groups, rather a balancing of needs.
We don't look at existing friendships when creating groups, not least because these often rapidly change at this point of transition and also because we focus on classes as places of learning. An important message is that the school is welcoming and new friends will be made.
Students have many times through the day to meet up with friends beyond their teaching groups including at break and lunchtime when all of year 7 are together.